30 Fashion Trends to Ditch in 2021 (and What to Wear Instead)
Do you already have your resolutions in order? We know we already have one in mind: it's time to ditch the fashion duds in our closet! And don't lie–your wardrobe could use some freshening up as we move into the new year, too.
The beginning of the year is such an important time in the fashion industry because designers are beginning to weed out what's popular and what's not. At the same time, department stores and clothing shops use what designers do to inspire their own pieces. Things are currently releasing, but you know what that means—out with the old and in with the new! As new colors and designs become popular again, the old stuff becomes passé. That means it's time to push them to the back of the closet and wait for them to become popular again. After all, we all know that fashion is cyclical.
Since new fashion is making a storm, we've created a list of things that we have to ditch for 2021. Some of these are pretty great, so it's sad to see them go, but it's important to remember something awesome will replace it. Also, if you love something that's on this list, no worries! It would be best if you wore what makes you happy. If you love chokers, rock them! Nothing is more fashionable than being happy with yourself.
DITCH: Baggy, Shapeless Clothing
Unless you're rail thin, baggy clothes are going to make you look messier and bigger than you actually are. If you're going for slacker chic, then by all means, toss on that shapeless blouse and head out the door. Otherwise, grab a belt and cinch yourself into presentability.
Your clothes should be a projection of yourself, rather than some shroud to hide behind. Shapeless shirts and formless frocks only serve to hide the beauty you should be showing off! But that doesn't mean you have to wear tight, form-fitting clothing every single day, like Joan from Mad Men.
WEAR INSTEAD: Tailored Garments
If you've grown accustomed to clothes that are ill-fitting, but don't want to completely reinvent your wardrobe—invest in having your clothes tailored. This way you can still wear all the outfits you love, but you'll look more put together.
Take the time and effort to make your clothes your own. You'll feel better when your what you're wearing fits the way it should, and everyone will notice the difference in your confidence.
DITCH: Bell Sleeves
Bell sleeves came back for a bit, but the design is now getting the ax, according to stylists. We loved this retro inspiration while it lasted. The only issue was that the sleeves are pretty impractical. It's all fun and games until one gets stuck in a car door.
Flap those wide wings and fly away, but not too far. Retro wear comes and goes, so your time may come again, bell sleeves. 2021 just isn't your year.
WEAR INSTEAD: Oversized Puffy Sleeves
Bell sleeves may be outdated, but oversized puffy sleeves definitely aren't. Not only do they create an exaggerated female silhouette, but they also make you look like royalty. Yes, this trend actually came to popularity in 1981 when Princess Diana married Prince Charles in a puffy sleeve gown.
Nothing draws attention to your body like some popping plumage on either side. Plus, you'll feel as free and flowing as your arms do.
DITCH: Waistcoats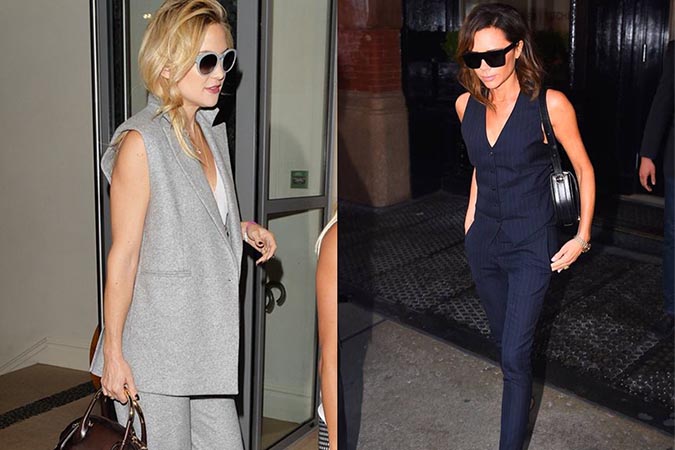 Waistcoats came back hard in 2020. It was "old-school" and great while it lasted, but it's time to let it go. Considering some of the other stuff coming in, we're actually a little excited for some more color.
It was fun while it lasted, but this sleek look is getting left behind. From now on, waistcoats are reserved for tuxedo attire.
WEAR INSTEAD: Embellished Jackets
Embellished jackets are now in! Whether it's a little bling or embroidery, this new fashion trend is perfect. It looks fantastic with a plain shirt and jeans or a beautiful dress.
Beyond their versatility, the beauty of these jackets is their level of personalization. Take some patches or embroidery and make your look your own. Wear your style on your sleeve, literally.
DITCH: Sheer Clothing
No matter how rocking that bod may be, 99% of the population has no desire to see what you look like in underwear. Save the risque stuff for someone who will actually appreciate your wild side.
A bit of modesty here goes a long way and leaves everybody guessing. Make intrigue your friend.
WEAR INSTEAD: Opaque Outfits
We fully support transparency in relationships, but not in wardrobes. That's why 2021 is the year we retire our sheer clothing pieces and opt for outfits that are opaque! It's more professional to keep everything covered, especially if you're old enough to have a full-time job.
A more professional look like this will demand the respect you deserve. Besides, I'm sure you'll feel less exposed, and your friends and coworkers will thank you.
DITCH: Ruffled/Tiered Clothing
Tiered and ruffled clothing is officially out (unless you're wearing a ruffled collar). We're suspecting ruffled clothing to come back pretty quickly, but tiered is singing its Swan Song for a while.
This style definitely had its day in the sun, but when it comes to current fashion, this look has fallen down to the lowest tier.
WEAR INSTEAD: Bold Shoulders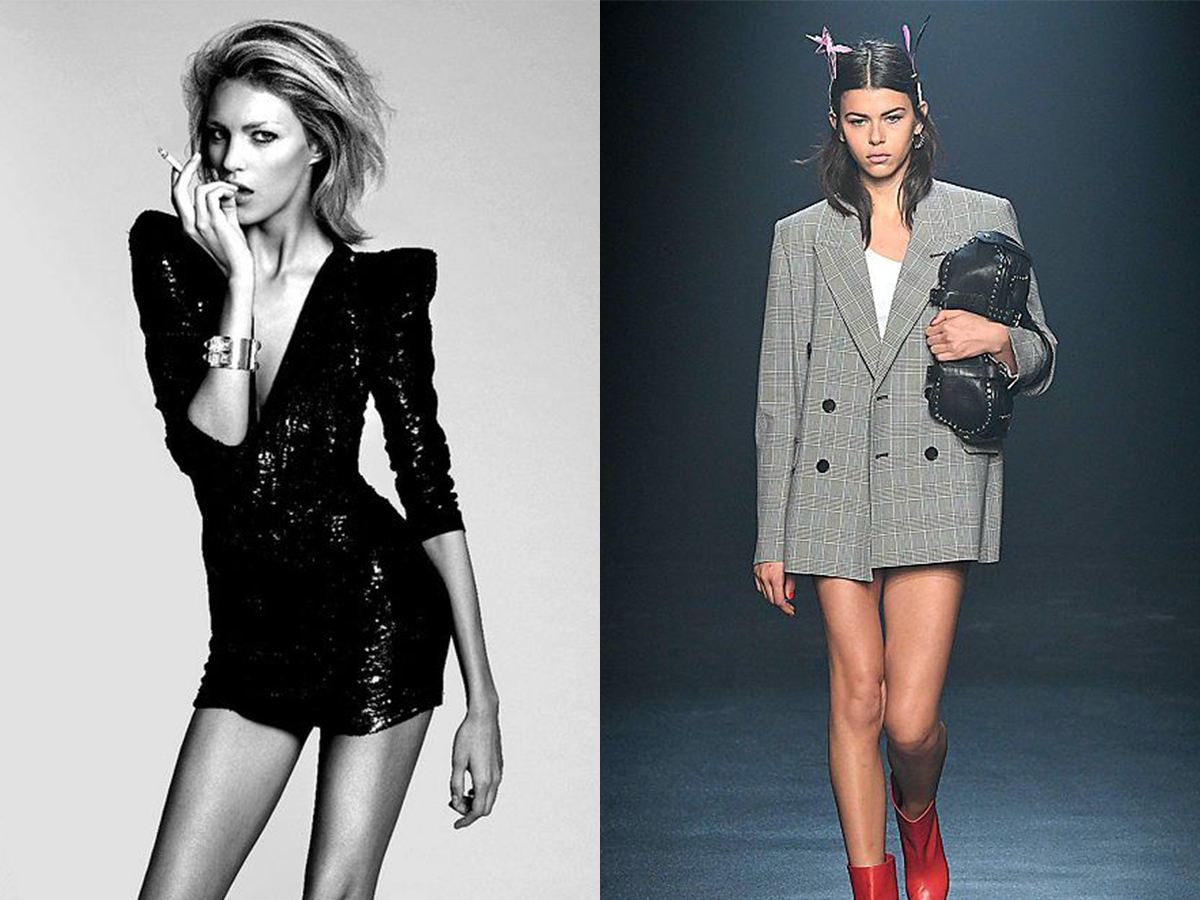 This year, the '80s are the chosen "retro" style. Power suits are great and all, but the best thing to wear? Bold shoulders. Some are going hard with pointy shoulders while others are going with the shoulder pads we wore to work back in the day.
Stick them up or broaden out, just let the world know you're taking up space and they can get used to it.
DITCH: Slim Sunglasses
The point of sunglasses is to block the sun, but you wouldn't know that from these teeny tiny frames. There are so many other, more practical ways to look silly–save your money for something more substantially dumb.
About the only thing these shades are good for is exaggerating the size of your head, but if you're wearing these, no one will think it's for a big brain.
WEAR INSTEAD: Oversized Cat-Eye Frames
Sunglasses aren't cheap, so let's stop investing in slim sunnies that hardly block the sun. Instead, purchase a pair of face-fitting frames. Oversized cat eye frames are an up-and-coming trend and a cute way to transition from the tiny shades you've grown to love.
Get some glasses that are as sharp as your personality. We've got no time for impractical anything this year, especially eyewear.
DITCH: Lace Accents
Lace came back and went away in the blink of an eye. We barely dipped our toe in this trend before plaid popped back into style. No one is saying you can't wear your lacey bralette still, though. Nothing wrong with feeling good!
We'll recall the frills fondly until the come back into style. For now though, the soft silky feel will be just for us.
WEAR INSTEAD: Tie-Dye
DIY it up! Tie-dye is coming back hard, and it's a trend we're living for. Creating your own shirt or bag just makes it mean that much more. It's also super casual and comfy — everything we love.
One of the many lessons we've learned from this year stuck at home is the value of hands-on projects. Here's one that let's you put those skills to the test and look great too!
DITCH: Windbreakers
We aren't sure when the windbreaker came in style, but they're already disappearing. So pour one out for the most obnoxiously noisy fashion trend of all time.
The look of these light jackets may be cool, but where's the practicality?
WEAR INSTEAD: Trench Coats
Let's be honest—trench coats are way trendier than windbreakers. Instead of an unflattering synthetic material, trench coats are made of a heavy, waterproof material. This will keep you warm, dry, and stylish. And the best part is that it's an andryogenous clothing piece. Both men and women can pull it off!
Trench coats can be sleek and sexy or broad and mysterious. You can pull off all kinds of looks in these and protect yourself from the elements all the while.
DITCH: Cold-Shoulder Tops
Cold shoulder tops may have looked fashion forward 20 years ago, but now they just look desperate. So save your dignity (and your body heat) and try something more fashionable.
These tops had their time and we all enjoyed it, but it's time we gave them the the treatment with which they share their name.
WEAR INSTEAD: High Necklines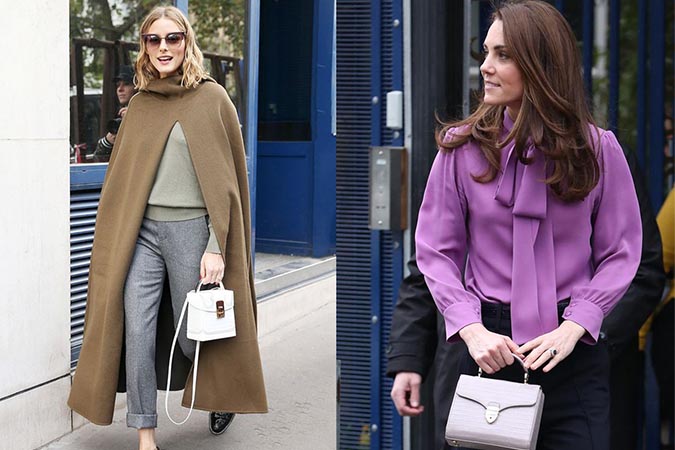 2021 is all about high necklines. It's a trend that's so popular that we wouldn't be surprised if it defined this entire decade. The elongated neck has been worn by many celebs and has slowly become a modern style worn by women everywhere. It's savvy, sophisticated, and making headlines.
This trend has been utilized by all kinds of designers, from Gucci and Versace all the way JC Penny's and Kohl's. You don't want to miss out!
DITCH: Painful Shoes
Now is the time to ditch those shoes that are hurting your feet. This isn't something fashion designers have decided—we just think we all need a little break from aching toes, arches, and heels. Rest those footsies.
Again, we're not wasting any time this year. Even the cutest shoes aren't worth the doctoring you have to do after a night out.
WEAR INSTEAD: Mules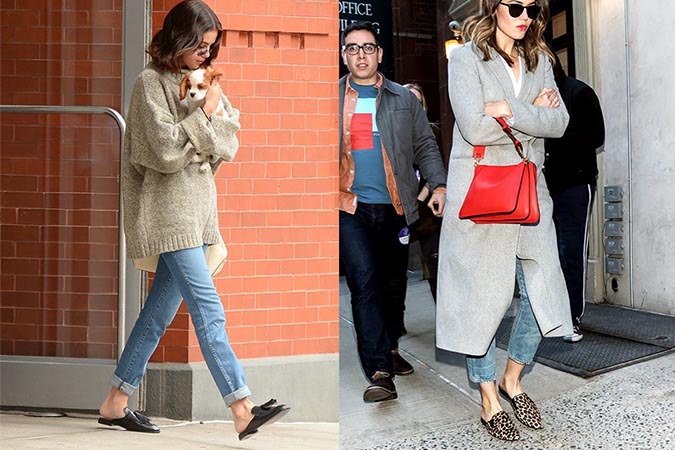 The mule trend is one we've been looking forward to. We can finally embrace a more realistic choice of footwear. This trend prioritizes comfort. The backless shoe creates a classic silhouette and has been recently updated. You can now purchase mules with chunky soles, block heels, and stylish prints.
Easy and breezy, jus like shoes should be. Let your feet breathe and look cute all the while.
DITCH: Instagram Eyebrows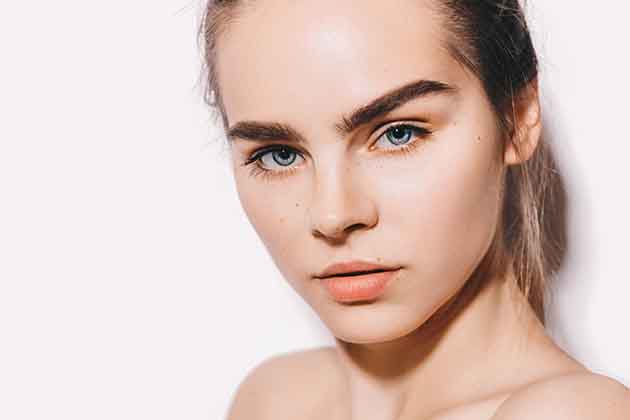 Instagram eyebrows, like Instagram anything, are a very internet-specific way of making yourself look like a fool. The lines are too strong, and it fades out near the bridge of the nose. It doesn't follow a person's natural eyebrow, which makes it look that much faker.
Another lesson on why you shouldn't try to emulate and influencer. These may make for some bold photo shoots, but that's about all you can hope for.
WEAR INSTEAD: Blue Eyeshadow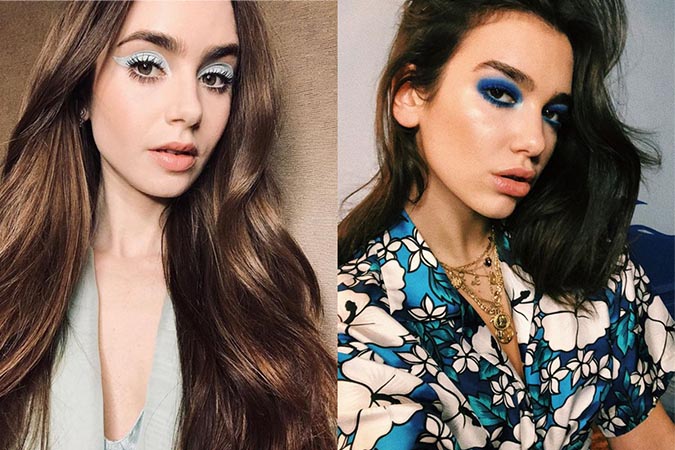 Although social media contributes to the rise of fashion and beauty trends, we believe Instagram brows should be left in the 2010s. Instead, experiment with blue eyeshadow. Lots of celebrities are using hues of blue to color their eyes and it's downright dreamy. Play around with other eccentric shades if you're feeling bold.
Make your eyeshadow match your mood. With so many colors to choose from, you can really make those peepers pop.
DITCH: Denim Everything
Denim everything? Not anymore. Double denim lasted about as long as it did in the early '00s, but that doesn't mean you can't wear the pieces separately.
Unless you're trying to honor our neighbors to the north by rocking out in your Canadian tuxedo, limit your denim please.
WEAR INSTEAD: Plaid
Plaid is timeless. It's back in, and women who love fall colors and style will rejoice. Head-to-toe plaid is a bit much, but a shirt or an accessory is the perfect amount!
It's rare to find something so sexy and comfy at the same time, but these shirts are exactly that. Wear them out on the town or curled up at home.
DITCH: Disco Collars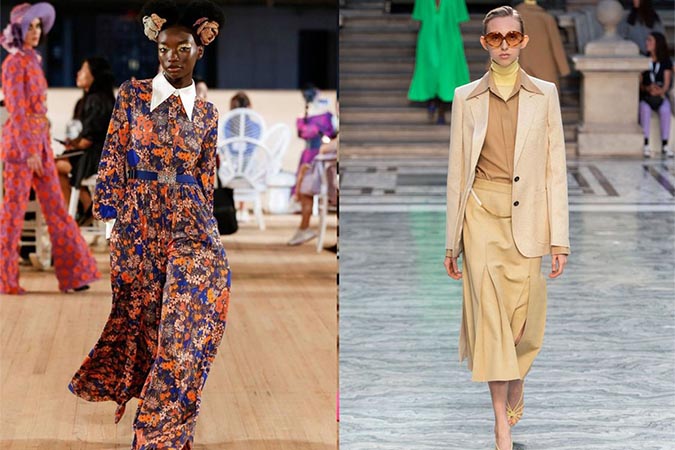 Disco collars, yes, like the ones John Travolta wore in Saturday Night Fever, are back in style. Women have willingly brought the wide collar trend back, but it's going away in favor of something much more flattering.
WEAR INSTEAD: Ruffled/Scalloped Collars
Ruffled and scalloped collars are much more flattering. Something like this is super dressy even when you're wearing it with a pair of jeans. Huge ruffled collars even look great for dressy events.
This look speaks for itself: light, cute, vintage, sexy, trendy all in one!
DITCH: Skirts With Side Slits
Skirts with side slits are great for a vacation or a trip to the beach, but out and about in town? Not so much. People are going with mid-length skirts instead. We like the flow of a full skirt a little more anyway.
Besides, leaving this behind also alleviates the anxiety around how it will fall whenever you take a seat.
WEAR INSTEAD: Big Jeans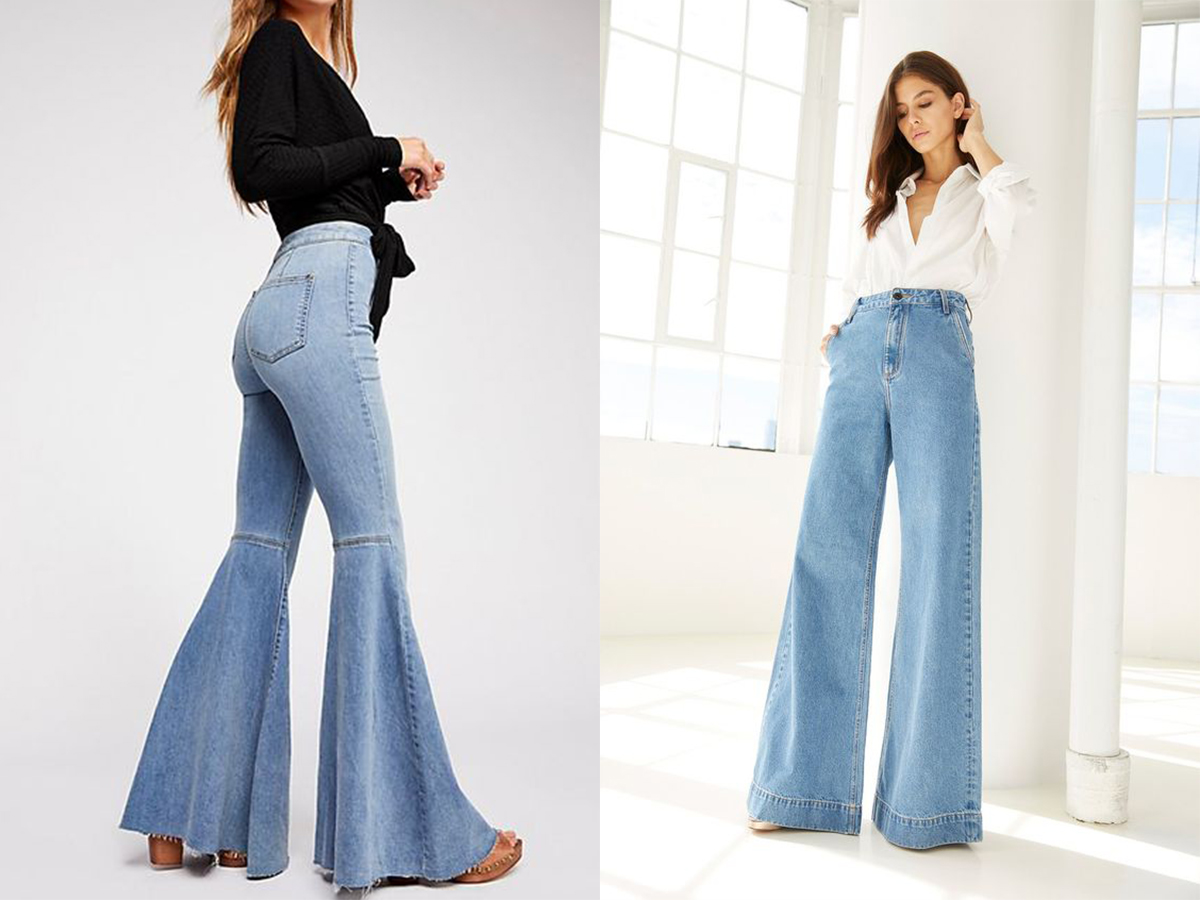 Bell bottoms and wide-leg jeans are growing in popularity very quickly. Don't be surprised if you see them everywhere soon. We suggest wearing a tighter top when you wear these treads since you don't want to be top and bottom heavy.
Pants like these are such a fun 70's throwback with a lot of modern flair. What's not to love?
DITCH: Extremely Short Dresses and Skirts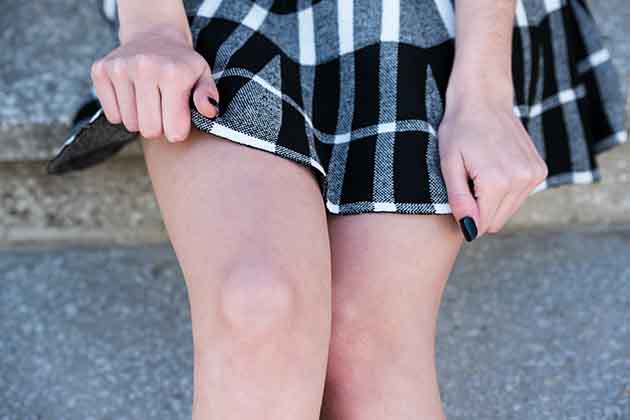 Why are people still wearing extremely short dresses and skirts? Nothing says "clean" like bare skin touching a subway seat! Short dresses and skirts need to be ditched—unless you're wearing leggings under them.
You should be proud of your body, and you can show it off however you want. But you shouldn't have to worry about a breeze showing it off in ways you don't.
WEAR INSTEAD: Mid-Length Dresses and Skirts
Modest is hottest, as they say. So, ditch the short dresses and skirts and wear something less revealing. We recommend something mid-length. It's a length that's flattering on almost everyone. And it doesn't make you look older, just classier!
Longer skirts and dresses have a kind of elegance to them that anyone can be proud of. Take that pride for yourself.
DITCH: All the Animal Print
Trust us, zebras can barely pull off zebra print, much less a grown adult. Leave the animal print on the Serengeti and stick to something a little less gaudy.
If you try to dress like one wild animal, you may end up looking like another: a cougar.
WEAR INSTEAD: Pastels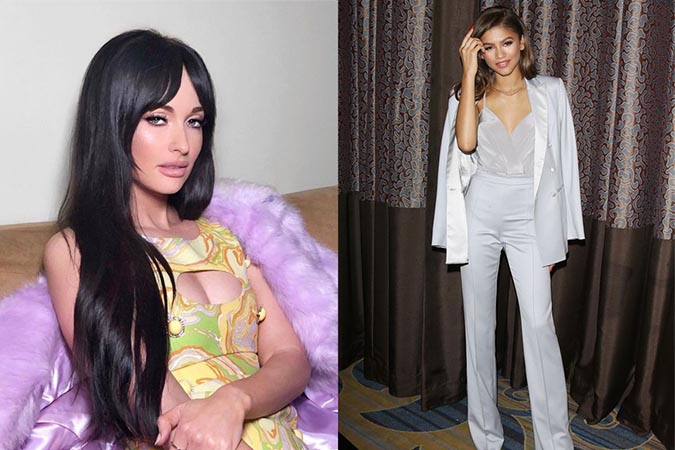 Animal prints are overdone. Next time you're tempted to wear your trusty leopard bodysuit or favorite zebra-print joggers, just don't. Pick something pastel to wear instead. These colors will look subtle, yet effortlessly fashionable. Pick pastel pieces that are patterned if you prefer a more playful wardrobe.
Solid colors or clothes with a bit of a mix somehow pop on their own and simultaneously accentuate how beautiful YOU are.
DITCH: Neons
Neon didn't stick around very long, did it? Well, we're not going to be too sad about this one. Neon and fluorescent colors were always an assault on the eyes. Hopefully, this trend stays in the past where it belongs.
Clothes like these are too good at distracting others or drawing unwanted attention. You want the right people with their focus in the right place.
WEAR INSTEAD: Earthy Neutrals
Neons aren't easy on the eyes, which is why 2021 is the year to wear more neutrals. Whites, creams, blacks, and tans will keep your wardrobe looking clean, yet warm. Buying staple wardrobe pieces in these shades will also allow you to mix and match your outfits with ease.
DITCH: Chunky Dad Sneakers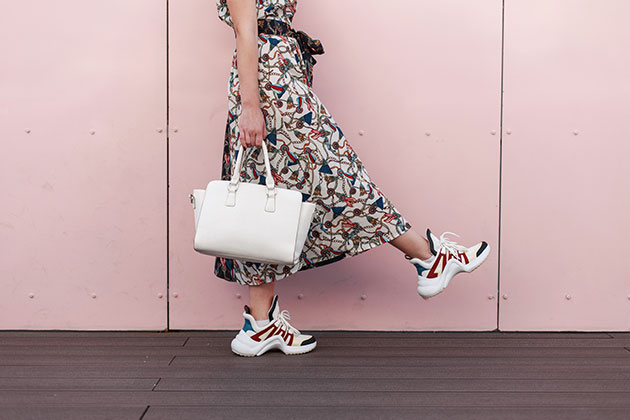 Are the sneakers chunky or is it the dads wearing them? Either way, leave the giant sneakers in the early 90s where they belong.
Sneakers are certainly comfy and nice to keep around when you need them, but they're probably not the look you're going for.
WEAR INSTEAD: Square-Toed Heels
Please, we're begging you to shove your chunky dad sneakers to the back of your closet. Better yet, donate them! And in the meantime, purchase a pair of square-toed heels. These are going to be huge this year. They can be dressed up or down. They look just as chic with denim as they do with a dress!
They may not be always be the most comfortable, but they sure are cute. And you can't beat a pair of shoes that goes with everything in your closet.
DITCH: Anything Vinyl and Latex
Want to look strange AND feel claustrophobic? Then by all means, slap on a pair of latex pants. Otherwise, stick to natural fibers that don't make you look like a dominatrix.
Skin tight and sweaty. If you're ready to peel these pants off of you, go ahead. Though we don't recommend it.
WEAR INSTEAD: Faux-Leather
Vinyl and Latex may be on the way out, but faux-leather is on the way in. Faux-leather jackets are perfect for every season, depending on the color. A classic black leather jacket transitions from fall to winter, but a colored faux-leather jacket can be worn throughout spring and into summer (depending on where you live).
All the rock n roll style of a leather jacket without the guilt of real leather. This is a look that anyone can pull off and look great.
DITCH: Micro Purses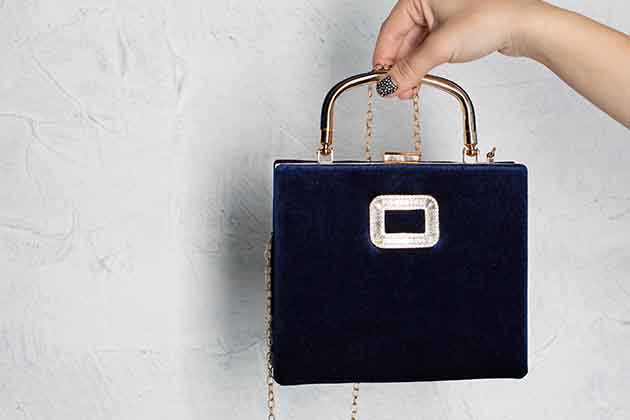 Micro purses are a 2-for-1 special: they look dumb AND they're wildly impractical. Now, giant bags don't look any better, but at least you can carry more than a thimble in one of them.
If you can't fit a wallet in your purse, it's time to fine one you can actually use.
WEAR INSTEAD: Oversized Clutches
Finally, a more practical purse. You'll never have to worry about not having room for your must-haves. Bottega Veneta's signature "Pouch" is the most popular oversized clutch among celebrities—but it comes at a price! There are lots of dupes that are more affordable if you don't want to spend more than $1,000 on a purse!
You're a busy woman with responsibilities and you've got a lot to carry. Don't squeeze into something that won't fit your lifestyle. These clutches will suit you better, we're sure of it.
DITCH: Boxy Cropped Tops
Crop tops are a statement piece. Specifically, they state, "I have nothing to offer the world beyond a good body."
Tops like these may seem effortless to you, but to most folks they just look lazy.
WEAR INSTEAD: XXL Button Downs
The best part about this trend is that you most likely already have an XXL button-down hanging in your closet. If not, you won't regret purchasing this wardrobe mainstay. It can be worn as a jacket over a graphic tee for a night out with friends or styled with jeans and a pair of heels.
Anyone can find a way to wear these that matches their style and makes them feel confident. Pick one out and find your new way to rock it.
DITCH: Western Wear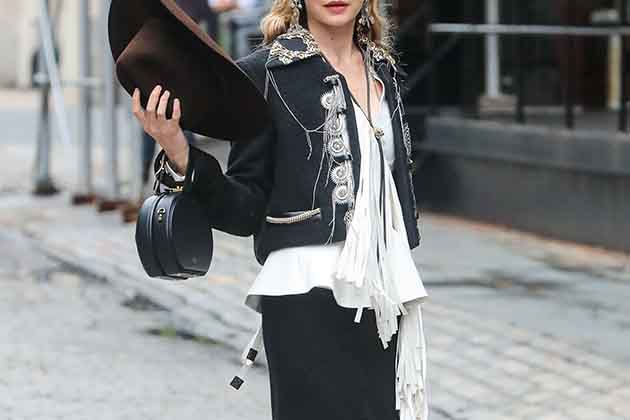 Life on the range is tough, but life on the catwalk is tougher. Western wear is currently having its final yee-haw before riding off into the sunset.
Keep your cowboy attire for your next costume party or a trip to west Texas. You might get some funny looks if you wear it anywhere else. 
WEAR INSTEAD: Jumpsuits/Boiler Suits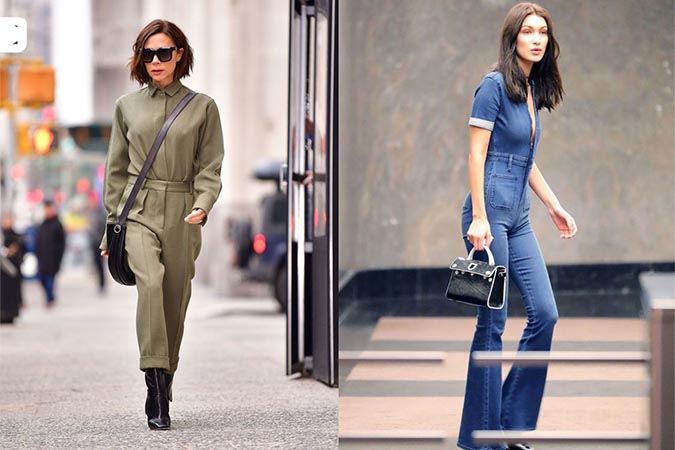 Western wear is no longer chic. Street style has evolved and it's urban, not Urban Cowboy. Trade the suede and studs for jumpsuits and boilersuits. These one-piece outfits are easy to throw on and always fashionable. They come in thousands of styles, colors, materials, and fits.
DITCH: Bucket Bags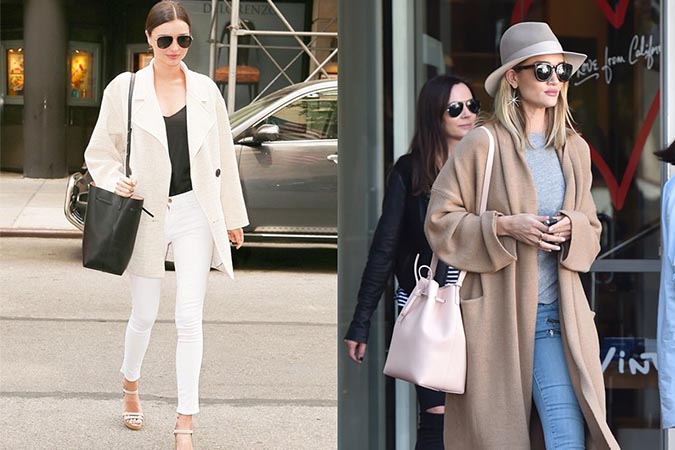 One of last year's hottest accessories was the bucket bag. It was great until you had to spend 15 minutes digging around for your chapstick or lipgloss. We want our pockets back, thank you.
WEAR INSTEAD: Straw Bags
Out with the old, and in with the new! This upcoming year is all about sustainability, and straw was the material of choice. We don't hate it. Straw is pretty durable, and they come in a variety of sizes and shapes.
Bags like these can be stained or patterned too, to make a essential aspect of your cute, earthy look.
DITCH: Biker Shorts
Wearing biker shorts in public is basically the same as showing up in your underwear. Nothing says classy like lycra bunching up in every nook and cranny south of your bellybutton.
Save these 'pants' for pedaling and put on some real close before you go out. Here's a thank you in advance from everyone you'll run into.
WEAR INSTEAD: Khakis
We're not saying we have to look like you work at Target, but give khakis another chance. Some of the newer styles look super good for a weekend with your beau or a morning of running errands.
Thankfully they're not just for the nerds anymore. Khakis, when worn right, can go with just about anything you want to try out. See what you can come up with!
DITCH: Corset Belts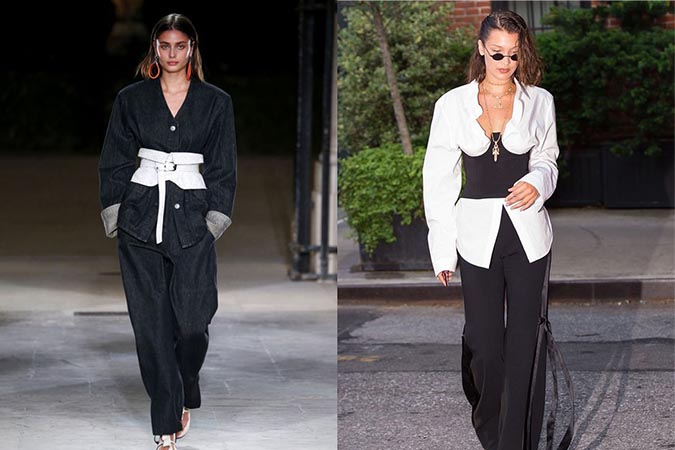 Corset belts and masks can't go together. Sorry, we only need one thing in the way of our breathing. This trend certainly wasn't comfortable, and we're glad that it's a dying trend.
Didn't we ditch corset around the turn of the century? The twentieth century? Now we know why. Belts are meant to hold your clothes up, not your ribs.
WEAR INSTEAD: Cinch Belts
Admittedly, cinch belts aren't that far off from corset belts, but that little change means so much. It can give a baggy outfit shape, which makes it look put together. It also works for a dress that hangs a little bit too much on your figure.
They may be close to their corset counterparts, but these belts can offer form for a sleek silhouette without cutting off airflow. 
DITCH: Letter Necklaces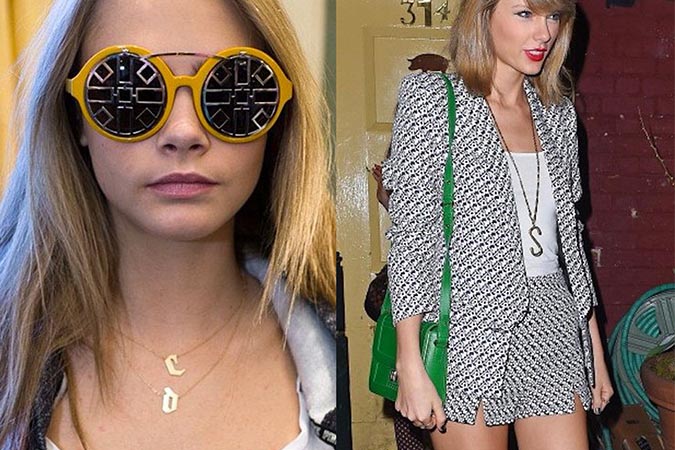 Custom letter necklaces have seen their better day. Accessorize with chain link bracelets, hoop earrings, pendant necklaces, ring sets, and statement earrings. These are versatile and trendy jewels that will withstand the test of time.
Necklaces like these are great for letting everyone else in the eighth grade know who your crush is. Let's leave them in middle school and find something a bit more mature.
WEAR INSTEAD: Mismatched Jewels
Finally, a new jewelry trend has emerged that we can totally get behind! Mismatched jewels are in. Feel free to combine dainty necklaces, abstract earrings, delicate rings, and chunky chain-link jewels. There are essentially no rules when it comes to accessorizing—except to avoid the tired letter necklaces at all costs!
You know that chain you keep in the drawer because it doesn't go with anything? Now's the time for it to shine alongside all your favorite accessories.
DITCH: Oversized Sweatshirts
Although oversized sweatshirts are extremely comfy, they're not cute. And while they can be worn without judgement in your own home, please don't wear them to work or out to dinner.
Curl up on the couch in one of these, but make sure to put on some clothes that actually fit before you leave the house.
WEAR INSTEAD: Crochet Knits
We fell victim to the oversized sweatshirt trend, but how could we not? It was so comfortable. Luckily, crochet knits are replacing shapeless sweatshirts. These new outfit staples are just as snuggly and way more appealing to look at. Crochet sweaters, skirts, and dresses were all over the runway and will soon be in all of our closets.
DITCH: Ugg Boots
UGG boots were a must-have in the 2000s. But after two decades, it's time to say goodbye to your beloved shearling-lined shoes. If you feel you absolutely cannot part with them, splurge on the Jerene Boot, a dressier, block-heel version of the classic UGG boot.
We know, we know. They're so cozy and they keep their tosies nice and toasty. You decide if that's worth the odd expressions on passing faces when you wear them out.
WEAR INSTEAD: Chunky Boots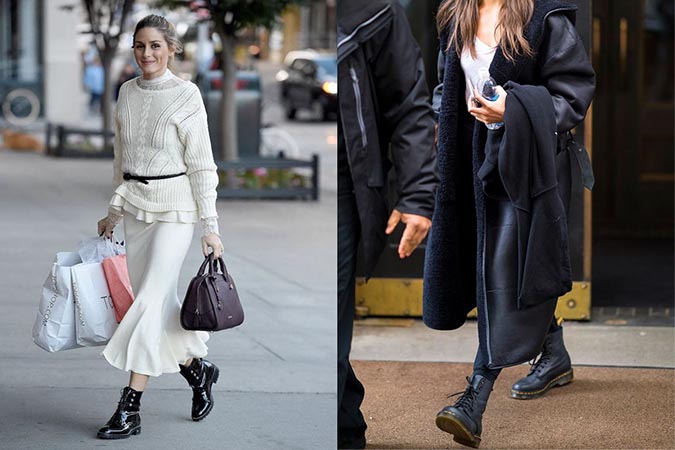 As comfortable as Ugg boots are, it's time to ditch them. They're no longer a trend anyone wants to see. Replace these winter staples with chunky-soled boots. You can find these boots in many different colors and styles. They look cute with dresses, skirts, and denim.
Trade the comfort of your old boots for the power in these. Kick through every obstacle in your way.
DITCH: Low-Rise Jeans
Low-rise jeans should've disappeared like yesterday. They're uncomfortable and impractical. And because they're expected to make a comeback in 2021, we need to band together and detest this low-slung denim trend before we morph into Paris Hilton in the early 2000s.
We already lived through the 2000's and had a great time with these jeans and some sequins, but that time passed. Let it go.
WEAR INSTEAD: High-Waisted Trousers
The majority of women experienced a moment of panic when low-rise jeans attempted to make a comeback last year. This style of denim should've remained in the '90s—no questions asked. This year, we're all about high-waisted trousers. Not only are they more comfortable, but they're also more versatile. They come in various shapes, patterns, and colors to help you transition through every season!
DITCH: White Accessories
White accessories are easy to use because they go with everything, but this year it'll take away from your outfit. It's best to go with something pastel or even neutral, so the outfit itself is the focal point–and not the giant coffee stain on your all-white handbag.
All-white is great for not being notice, but you want to exude confidence and show off your sense of style as well as your sexy self. 
WEAR INSTEAD: Hoop Earrings
The white accessory trend is finally on its way out. Don't get us wrong, we supported it for a period of time, but now it's overdone. If you're looking for a new jewelry staple, buy two pairs of hoops—in gold and silver. These can be paired with anything and will keep you looking trendy all of 2021.